In the consultation room, Stacey Saran exudes professionalism as she attends to yet another male client. Her eyes gleam with empathy while her fingers expertly massage his scrotum, alleviating any discomfort he might be experiencing. As she gently guides him onto the examination table, there's no denying the heat between them; their bodies practically humming with anticipation.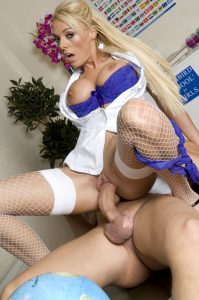 With skilled precision, Stacey undresses him, revealing a hardened shaft begging for release. She takes it in her hand, stroking slowly at first, then faster and harder until his hips buck against her touch. The sound of their breath mingling fills the air as she takes him deep into her mouth, teasing and pleasuring him with each delicate flick of her tongue.
As if possessed by lustful demons, they move together in a primal dance – her body arched backward invitingly, his hands grasping tightly at her waist. With every thrust, her soft curves meet his rigid frame sending shockwaves of pleasure coursing through both their bodies. Their passion ignites like wildfire, consuming everything around them until finally…he explodes.
Hot streams of semen erupt from his engorged member, painting Stacey's pussy in a thick layer of sticky liquid. She doesn't flinch or recoil but instead meets his gaze unwaveringly, a look of satisfaction etched across her face. This isn't just another job for her; it's an opportunity to connect with someone on a level deeper than words could ever express. And in this moment, as their bodies intertwine and hearts race wildly, she knows she has succeeded.