Imagine a world where dreams come true, and your wildest fantasies become reality. In such a place, you would find yourself in the midst of an unforgettable experience – conducting a job interview with not one, but two stunningly beautiful women simultaneously. As they enter the room, their presence commands attention; their allure is undeniable. Chloe Dee and Porcha Sins gracefully take their seats across from you, exuding confidence and charm. The air crackles with anticipation as you begin the interview process.
As questions are asked and answered, it becomes increasingly clear that this isn't your typical business meeting. Flirtatious banter fills the space between them, leaving you reeling from the electricity surging through the room. Before long, passion ignites, and what started as a professional exchange transforms into something far more tantalizing.
Paul Chaplin watches on in amazement as these three individuals navigate through uncharted territory together. He knows that in any other circumstance, such behavior would be frowned upon; however, here in this dreamlike realm, anything goes. Desire takes hold, leading each participant down a path filled with unexpected twists and turns.
By the end of this extraordinary encounter, lives have been irrevocably changed. What began as an ordinary day has evolved into something truly extraordinary – a testament to the power of imagination and the boundless potential within us all. Starring Chloe Dee, Porcha Sins, and Paul Chaplin, "In An Ideal World" presents a unique glimpse into a world where boundaries blur and possibilities abound.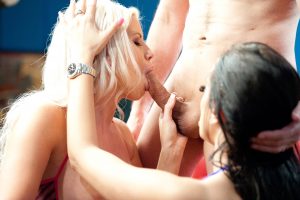 This is one of those never-before Chloe Dee scenes that was hidden in the Bluebird Films vault and is only now just coming to light!